Welcome To The Pellegrino Family Homepage
Hi. Welcome to the homepage of Bob and Trish Pellegrino. We have been married since 2002 and have a wonderful family. Bob's side of the family consist of his Dad, Bob, his companion, Janet, his son, Bobby, his life-partner, Missy, their son, Anthony, his daughter,Sarah, her partner, Billy, their daughter, Skylah, Bob's sister, Cindy, her husband, Tom, their two children, Patricia and Kevin, and Bob's youngest sister, Karen. Trisha's side of the family consists of her sons, Raymond and his life-partner, Margaret and Stephen Blethen and his life-partner, Stephanie and their two pups, Dover - a cocker spaniel and Tucker - a great dane.
Our grandchildren are the joys of our lives. It's amazing how two little tykes can bring smiles to everyone's faces.
2007 -----
What a year it is. Skylah and Anthony are growing so fast. Stephen and Stephanie have their new house and their new pups who are also growing by leaps and bounds.
Bob's treatments have ended with less than good results, however, he's on a maintenance therapy which will keep any further disease from deteriorating his health. He's much more active again. We are still landscaping.....doing a great deal of work at the Concord-Loudon Line Self Storage and it's coming out great for two OLD people working. Bob is fixing our plow truck so we have income from the snows of next winter.
I'm working on my ECU credits to become a licensed day care provider in the future. I currently am Sky's day care provider which is a joy in itself.
Raymond and Margaret are still in their beautiful apt. in Concord. Margaret got a new teaching position in Pembroke for next year and is most excited about not having such a long commute.
Bobby and Missy have set a wedding date....Sept. 8th. Hopefully all will go well with them.
Sarah, Billy and Sky are moving to an apt. in Franklin. Hopefully things will go better for them.
Sky was baptised on April 29 at a beautiful ceremony. It was a wonderful day for all. I had the pleasure and joy of making her baptismal dress.
Check out all our pictures on photobucket and here to see how the family has grown.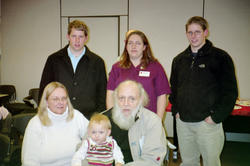 This is a picture of the Blethen-Pellegrino family taken at Sarah's LNA graduation. Missing are Bobby and his baby son, Anthony.
From Left to Right, Seated.....Trish, Skylah, and Bob Pellegrino
Standing.....Raymond Blethen, Sarah Pellegrino, Stephen Blethen